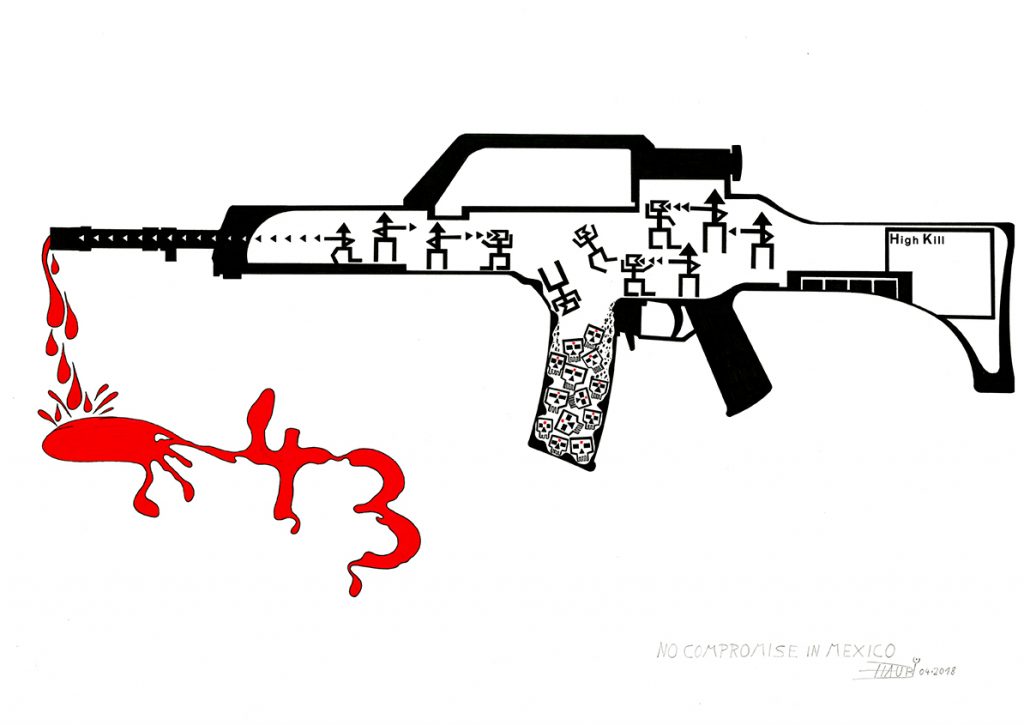 The Illegal Mexico-Deal – The Export of Thousands of G36-Assaultrifles by Heckler & Koch to Mexican Regions of Conflict (from 2006 to 2009)
Between 2006 and 2009 leading officials at the largest German exporter of small arms Heckler & Koch were involved in 12 shipments of more than 4700 G36-Assaultrifles and related materials to Mexico. At least six H&K employees – among them two former CEOs – were aware of the weapons' illegal transportation into the Mexican provinces of Chiapas, Chihuahua, Jalisco and Guerrero, where a cruel drug war is raging.
In 2010 the peace activist and author Jürgen Grässlin pressed criminal charges against leading H&K employees. In 2012 his lawyer Holger Rothbauer added charges against officials in the Federal Office for Economic Affairs and Export Control as well as in the Federal Office for Economic Affairs, who are also responsible. Regardless of the evidence, the District Attorney's office shelved the investigation against the government officials only one month later (October/November 2012).
The criminal charges brought against leading H&K employees have,
however, been accepted: In May 2016 the Stuttgart District Court charged the former President of the Rottweil District Court, later CEO of H&K, Peter Beyerle as a member of a criminal gang ("Mitglied einer Bande") with the deliberate violation of the War Weapons Control Act
(Kriegswaffenkontrollgesetz, KWKG) and the Federal Act on Foreign Trade (Außenwirtschaftsgesetz, AWG) in 12 cases.
By Jürgen Grässlin and Eugenia-Maria L. Valencia
Download the full case report and trial monitoring reports below (only buttons with white text are currently available. Please check back later for other versions)
Artwork by Haubi Haubner